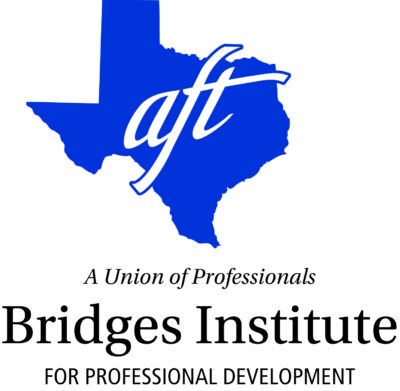 The Bridges Professional Development Institute is a 501(c)3 nonprofit organization devoted to providing professional development and educational resources to Texas educators and expanding the "community schools" model of support for public schools—all with the goal of improving student achievement. (The organization was renamed in June of 2019 to honor the late Texas AFT president Linda Bridges.)
BPDI will improve student achievement by making a difference in practitioners' performance and professional growth while also supporting community schools models, which provide intensive community engagement and wraparound social services to "turn around" struggling schools. All programs are designed to empower educators to connect theory to practice and improve student outcomes.
The institute will work with nonprofit partners and donors to provide programs that will:
Be rooted in evidence-based educational, cognitive and social science research.

Be guided by cutting-edge experts in the field and designed by frontline educators who know firsthand what goes on in classrooms and schools every day.

Provide educators with the necessary tools and resources to make complex decisions and select the most effective strategies for meeting individual students' academic, social and behavioral needs.

Connect excellent teaching practice with broader educational policy issues and campaigns.

Advance the community schools model throughout Texas.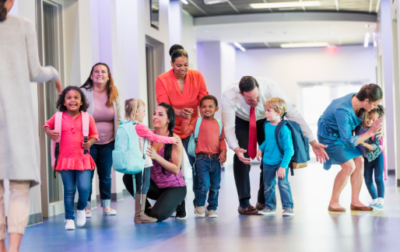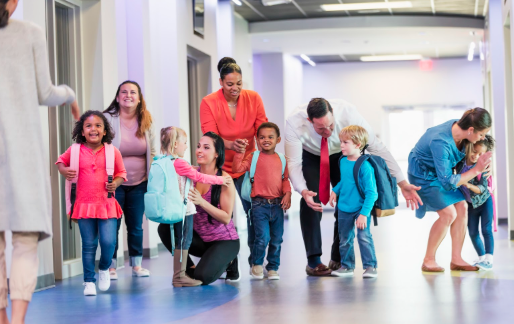 The program courses include topics such as classroom management/behavior, community/family involvement, math, reading, curriculum, instruction and assessment, English language learners, and special education.
Community schools organize partners and resources for struggling campuses to address the challenges faced by students and their families. The model emphasizes intensive planning and engagement with parents and community stakeholders, as well as coordination with social service providers and nonprofits to provide wrap-around services to address issues like poverty, high mobility and health care. Community Schools also strive to create innovative, real-world learning opportunities in and out of the classroom.
Current community schools initiatives are underway in Houston, Austin, El Paso, and Corpus Christi, as well several other areas just beginning programs. The BIPD has created a state-wide community schools network to share of best practices, research and technical support as more schools and school districts adopt community schools as their model for school improvement. The Institute also will continue to sponsor the annual Texas Community Schools Summits and partner with national organizations such as the National Coalition for Community Schools, Communities in Schools, and Austin Voices for Education and Youth.
For more information on the institute, or to get involved, please email Jamie Womack Williams.
More About Linda Bridges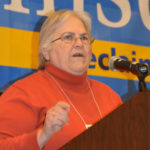 Linda Bridges started her career in education as an elementary special education teacher in the Corpus Christi Independent School District (CCISD). Bridges was a charter member of the Corpus Christi American Federation of Teachers and served as the local's secretary, executive vice-president, and then began a tenure as president of CCAFT that spanned 24 years (1981-2005).
Bridges helped pioneer elected consultations for school employees, which gave school employees a voice in negotiating compensation, work-place issues and other education initiatives. Under her leadership, CCAFT developed several collaborative ventures with the Corpus Christi Independent School District in the area of school reform. From these efforts the district and the union developed local academic standards and peer coaching for new teachers and teachers needing support and resources.
Bridges was a member of the Plaintiff's Advisory Committee that negotiated an end to bussing in exchange for increased funding and educational opportunities for students in the district's lowest performing schools.
While president of CCAFT, Bridges also served as president of the 10,000 member Coastal Bend Labor Council. In Corpus Christi, Bridges held other community positions including:
Chair, Crime Control and Prevention District (Mayor's appointee)

Chair, Juvenile Assessment Center

Regent, Del Mar Community College

Director, United Way of the Coastal Bend

Chair, Coastal Bend Alliance for Youth

Secretary, Citizens for Educational Excellence
Bridges was elected president of Texas AFT in 2005 and served in that capacity until her sudden passing in January 2015. Under her leadership, Texas AFT experienced consistent growth in membership and added new local affiliates across the state. Bridges was a teacher and mentor to many local presidents of Texas AFT affiliates and taught many leaders how to develop reciprocal, productive labor-management relationships and how to work for consultation policies that institutionalize these working relationships. Bridges also served on and chaired the board of the Texas Labor-Management Conference and on the board of Texans for Secure Retirement.
A the time of her passing, Texas AFT was, and remains, the largest union affiliate of the Texas AFL-CIO, on whose Executive Committee she served.  At the national level, Bridges was elected an AFT Vice President in 2007 and was appointed to the Executive Committee of AFT.