The election on Nov. 6 will be crucial in ensuring we have allies of public education at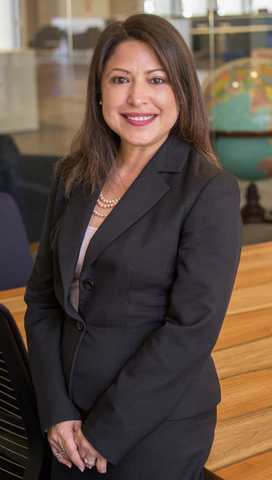 the Capitol this spring, and thus, we'll spend the next few weeks profiling our endorsed candidates in the Hotline and on our website. Every race and every vote counts for our effort to secure more funding for our students, and better pay and health care for our school employees!
Rep. Mary Ann Perez has been a life-long advocate for schools and educators, first as a chair of the Houston Community College Board of Trustees and now as a leading voice in the Texas House of Representatives for District 144. Having graduated from Milby High School and the University of Houston, she has shown a commitment to the institutions which have given generations of Houston children the chance to grow into leaders. As a successful businesswoman who built her own insurance agency in Southeast Harris County, Mary Ann will continue to fight for others to have the same opportunities to build a successful life which she has enjoyed.
During the 2017 Legislative session Mary Ann was a leading voice for more funding for schools, teachers, and retirees. She was assigned to the Appropriations Committee in 2017 where she helped direct the increased spending that the Texas House allocated before that bipartisan effort was blocked by Lt. Gov. Dan Patrick and his allies in the State Senate.
If she is re-elected Mary Ann has a proven track record and will continue to advocate for the education which gives every student a chance to succeed and treats every teacher with the respect they deserve.
In Senate District 10 (Fort Worth area) Beverly Powell has proven her commitment to her 
community through decades of charity and civic volunteer work, helping lay a path for other families to have the opportunities to succeed and build businesses the way she has. If elected Beverly Powell would focus on giving young people the chances to acquire an education and create the economic futures they deserve. She would also be a strong advocate for educators, because, as the daughter of two educators and former school board president in Burleson ISD, she has seen first-hand the dedication it takes to work in a classroom and the poor job Texas has done to keep its promise to those who have dedicated their careers to educating the next generation.
For Senate District 16 (North Dallas area) Nathan Johnson is running to restore common sense to a Senate chamber that often finds itself more concerned with bathrooms than any other part of a public school. A mild-mannered attorney (in sharp contrast to his ideologue opponent Don Huffines)  who is more interested in finding spaces to work together, Nathan has proposed several solutions to filling the funding gap in education, like eliminating out-of-date tax loopholes. As a Senator, Nathan wants to make sure that North Dallas remains a driver for business in Texas with good schools and resources for families.
Rita Lucido is running in Houston's District 17 to unseat Joan Huffman, who has directly 
attacked schools and educators during her Senate career by sponsoring bills trying to take away payroll dues deduction for teacher group members and being a vocal advocate for charter schools and private-school vouchers. Rita is an accomplished family attorney who will end these attacks on public education and instead focus on building community supports for kids and educators. If elected Rita would be a loud voice, willing to fight for her district and its public schools starting on day one of the legislative session.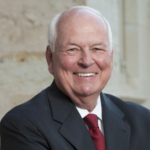 ​In HD 121 in San Antonio​, Texas AFT has endorsed Steve Allison, a business attorney and former School Board president in Alamo Heights. Steve is running to replace Joe Straus (who served as speaker of the Texas House) as a moderate Republican focused on school funding equity and relieving the upward pressure on local district funding that has caused property taxes to rise.
As a former school board president, Steve has had to make hard choices due to the state's failure to properly fund school districts, and he will fight to increase education funding so that school districts are no longer put in a position where they have to cut because of a lack of state support.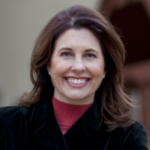 ​In the Dallas area in the State Board of Education District 12​,  Suzanne Smith​ is running for an open seat in this year's election.
The 15 members of the SBOE are elected from single-member districts and each member represents more Texans than any Texas state senator. The SBOE is responsible for determining curriculum standards for 5.4 million Texas public school students, reviewing and adopting textbooks and instructional materials, overseeing the Texas Permanent School Fund, and has the ability to veto the applications of charter schools approved by the Commissioner of Education. The SBOE also has final review of rules proposed by the appointed State Board for Educator Certification.
Suzanne is the daughter of career educators and adjunct professor at University of Texas, Arlington and has built a career advocating for changing the education system to better address the problems related to poverty.
She also has made her mark civically, working on a number of boards in Dallas, including the Dallas Mayor's Task Force on Poverty and the city's Library Board. As a member of the State Board of Education Suzanne will be a strong voice for curriculum and materials that relate to the experiences of students.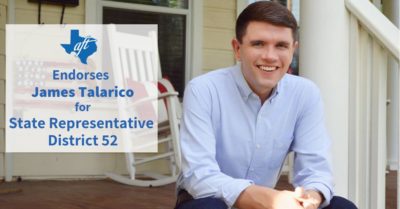 As a former teacher, James Talarico is deeply committed to fixing our state's broken school finance system by increasing education funding levels, revamping outdated funding formulas, and reworking our recapture system (or "Robin Hood") to be more equitable. That means smaller classroom sizes with cutting-edge technology, a more inclusive school environment with strengthened anti-bullying programs, increased teacher pay, and a better future for our kids. James is running in House District 52 in Williamson County.
Julie Johnson is the daughter and granddaughter of teachers, and growing up she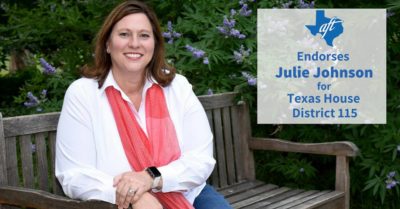 saw the transformative role education plays in students' lives. Julie's education, which she paid for with Pell Grants and student loans, was vital to her professional success. As a mom of two, Julie firmly believes that every Texan has the right to a quality education from early childhood through high school graduation and beyond. Julie is running in House District 115 in Dallas County.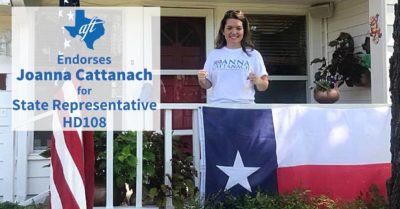 As an educator for 10 years, Joanna Cattanach has seen what the value of a quality education can mean for a child, especially for First Generation college students. Joanna supports our public schools, not voucher programs that undercut our kids' education. She believes we should make our public schools, teachers, community colleges, and universities a priority by reinstating state funding levels to 50 percent. She believes we must invest in proven, universal pre-K, and free community college. She also believes teachers need to be paid adequately, receive properly funded pensions, and have access to affordable healthcare, including retired teachers. Joanna is running in House District 108 in Dallas County.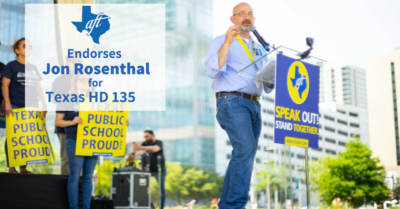 A passionate advocate for public education, Jon Rosenthal believes we need major reforms for our schools and school systems. "There are many areas that need attention but I would look to start by reforming school finance and closing corporate loopholes to infuse education budgets with extra money without raising our property taxes. We also need to, revise the testing and evaluation systems, and re-evaluate textbook purchases, Then we must address protections and benefits for teachers and other school employees." Jon is running in House District 135 in Harris County.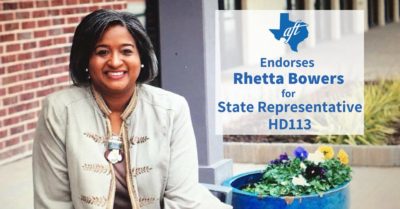 An involved member of the community, Rhetta Bowers shepherded her children through local public schools. As an educator, a PTA member, and through her volunteer work with Garland Independent School District, Rhetta has learned the value of investing in young people.
As a part-time educator and a full-time wife and mother, she knows from experience that the path to success is founded upon hard work, access to education, job opportunity, and healthcare. Rhetta is running in House District 113 in Dallas County.
Philip Cortez grew up in the Palo Alto neighborhood of San Antonio, where his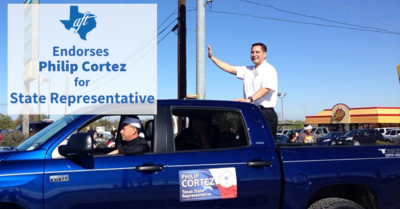 parents instilled in him love for education, a sense of duty to his country, and a determination to improve his community. Since 1999, Philip proudly served his country in the U.S. Air Force. He continues his duty to his country as a Captain in the Air Force Reserve. Philip has always been a leading voice in his community. In 2007, he was elected to the San Antonio City Council representing District 4 where he served until 2011. Philip was elected to serve as State Representative for District 117 in 2012. He has been a lifelong resident of the district, and will continue fighting for the interests of the residents.
Philip Cortez believes in improving our schools by ensuring that our children are never short-changed, that we provide needed resources for our teachers, and make sure that we have classrooms where students can succeed. Philip's strong commitment to education has been evident: he fought to restore over $4 billion in public school funding, lower the reliance on high stakes testing, and ensured that state funding would be available for students who look to earn college credits while still in high school.
Vikki Goodwin will fight to ensure the state provides a minimum of 50% of the school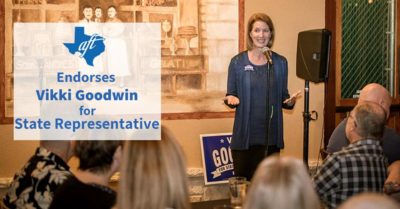 funding so local school districts are not forced to increase local property taxes to make up the difference. She will also work to keep public dollars in public schools, and not send those dollars into private or parochial schools through vouchers or education savings accounts. She will push to fund reasonable class sizes, pay competitive teacher salaries, and provide professional development opportunities. Vikki will be a true champion for Texas public schools. Vikki is running for State Representative in District 47 in Travis County and the Texas AFT is proud to support her.

The Texas AFT is proud to endorse John Bucy for State Rep in HD 136. John is a small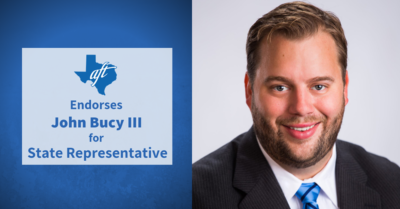 business owner who started an organization to give nearly 200,000 public school students across Texas access to sports and extracurricular activities they otherwise wouldn't have. John is running for the State House in District 136, representing Austin, Brushy Creek, Leander, and Cedar Park.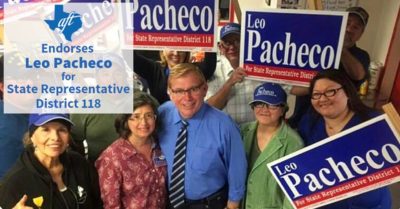 A proud graduate of Harlandale High School, Leo Pacheco is a strong and dedicated advocate for highest-quality public schools. Leo earned his Associate's degree from San Antonio College, his Bachelor's in Business Management from Texas A&M University San Antonio, and his Master of Public Administration from the University of Texas at San Antonio. He was the first of his family to earn a university degree. Passionate about education and non-discrimination, Leo serves presently as the professional human resource specialist at Palo Alto College.
Knowing the worth of education to our families' prosperity and well-being, Leo will fight every minute for the good of our children and our local taxpayers, pushing the state to fund the inadequate state money rendered for public schools and its obligation to our children. In serving on the Alamo Community Colleges District 2017 Citizen's Bond Advisory Committee, Leo helped to secure the $23 million for an Education Training Center for the Southside positioned on Southside ISD property.
Pol. Ad. Paid for by Texas AFT COPE