Texas November Election Endorsements
Early voting: Tuesday, October 13 – Friday, October 30, 2020
Election Day: Tuesday, November 3rd, 2020
A note on endorsements: Texas AFT does not endorse/recommend in all races. If your district is not represented in our list, we urge you to ask the candidate questions about the issues below to help make a decision.
(D=Democratic, R=Republican, SD=Texas Senate District, HD=Texas House District) Find out who represents you.
U.S. Congress (recommended):
Hank Gilbert, D-CD 1
Sima Ladjevardian, D-CD 2
Lulu Seikaly, D-CD 3
Stephen Daniel, D-CD 6
Mike Siegal, D-CD 10
Adrienne Bell, D-CD 14
Wendy Davis, D-CD 21
Former Senator Davis joined the San Antonio Alliance to talk about community involvement in reopening schools.
Sri Preston Kulkarni, D-CD 22
Gina Ortiz Jones, D-CD 23
Gina and Alejandra Lopez from the San Antonio Alliance discuss education during the pandemic.
Candace Valenzuela, D-CD 24
Julie Oliver, D-CD 25
Texas Senate
Roland Gutierrez, D-SD 19
Judith Zaffirini, D-SD 21
Jose Menendez, D-SD 26
Texas House
Gary VanDeaver, R-HD 1
Keith Bell, R-HD 4
Travis Clardy, R-HD 11
Ernest Bailes, R-HD 18
Dade Phelan, R-HD 21
L. Sarah Demerchant, D-HD 26
Ron Reynolds, D-HD 27
Eliz Markowitz, D-HD 28
Watch Dr. Markowitz and Fort Bend AFT President Glenda Macal talk about how to reopen schools safely.
Todd Hunter, R-HD 32
Abel Herrero, D-HD 34
Oscar Longoria, D-HD 35
Sergio Munoz, D-HD 36
Amber Medina, D-HD 37
Armando Martinez, D-HD 39
Terry Canales, D-HD 40
Erin Zweiner, D-HD 45
Sheryl Cole, D-HD 46
Vikki Goodwin, D-HD 47
Donna Howard, D-HD 48
Gina Hinojosa, D-HD 49
Celia Israel, D-50
Eddie Rodriguez, D-51
Watch Rep. Rodriguez join leaders from Bastrop and Austin to talk about education in a pandemic.
Hugh Shine, R-HD 55
Trent Ashby, R-HD 57
Michelle Beckley, D-HD 65
Sharon Hirsch, D-HD 66
Drew Darby, R-HD 72
Mary Gonzalez, D-HD 75
Dr. Gonzalez brought her public education expertise to a great discussion with San Antonio and Houston teachers.
Lina Ortega, D-HD 77
Joe Moody, D-HD 78
Art Fierro, D-HD 79
Four Price, R-HD 87
Ramon Romero, D-HD 90
Jeff Whitfield, D-HD 92
Lydia Bean, D-HD 93
Alisa Simmons, D-HD 94
Nicole Collier, D-HD 95
Joe Drago, D-HD 96
Elizabeth Beck, D-HD 97
Giovanni Capriglione, R-HD 98
Charlie Geren, R-HD 99
Chris Turner, D-HD 101
Ana Maria Ramos, D-HD 102
Rafael Anchia, D-HD 103
Jessica Gonzalez, D-HD 104
Terry Meza, D-HD 105
Victoria Neave, D-HD 107
Joanna Cattanach, D-HD 108
Watch Joanna join Alliance AFT to talk about reopening schools safely.
Carl Sherman, D-HD 109
Toni Rose, D-HD 110
Yvonne Davis, D-HD 111
Brandy Chambers, D-HD 112
Brandy brought educators from Garland and Richardson together to talk about public education in North Texas.
Rhetta Bowers, D-HD 113
John Turner, D-HD 114
Julie Johnson, D-HD 115
Trey Martinez Fischer, D-HD 116
Philip Cortez, D-HD 117
Leo Pacheco, D-HD 118
Diego Bernal, D-HD 123
Ina Minjarez, D-HD 124
Ray Lopez, D-HD 125
Natali Hurtado, D-HD 126
Bryan Henry, D-HD 130
Alma Allen, D-HD 131
Gina Calanni, D-HD 132
Ann Johnson, D-HD 134
Ann discussed public education funding with Jackie Anderson from the Houston Federation of Teachers.
Jon Rosenthal, D-HD 135
John Bucy, D-HD 136
Gene Wu, D-HD 137
Akilah Bacy, D-HD 138
Jarvis Johnson, D-HD 139
Armando Walle, D-HD 140
Senfronia Thompson, D-HD 141
Mary Ann Perez, D-HD 144
Shawn Thierry, D-HD 146
Garnet Coleman, D-HD 147
Penny Morales Shaw, D-HD 148
Hubert Vo, D-HD 149
Pol. adv. paid for by Texas AFT COPE
Why this election is important
#OurWorkIsPowerful
From the school house to the State House, public school employees are standing up for Texas schoolchildren. We won over $6.2 billion in new school funding for our public schools in the recent legislative session. However, now we face an economy crushed by the pandemic and enormous reductions in state revenue. Now is our time to make our voices heard, mobilize to take real action, and vote in the upcoming election. We need leadership that supports a continued investment in our students and school employees.
Our work matters and got results in 2019:
• $6.2 billion in new funding for public education
• Pay raises for all Texas public school employees
• Blocked voucher legislation and slowed the expansion of charter schools
• 13th check for retirees while setting up the potential of winning a COLA increase
We will continue to fight for:
• Additional funding for public education providing a real investment for our neighborhood schools and colleges
• Increased salaries and improved healthcare benefits giving employees the freedom to live securely
• Safe and welcoming environments in our schools, lower class sizes, and wrap-around resources for our students
• The freedom to teach and the freedom to care so we may meet our students' needs
Steps you can take to get involved!
Register to vote:
Nearly 80 percent of Texas AFT members voted in the last election. This means that we have real power to make a difference, and we have the momentum to build a pro-public school majority in the Texas House of Representatives. We encourage everyone to check their voter registration status and make any necessary changes before the next election.
Make a political contribution:
Electing candidates that support our values is necessary if we are to stand up for our public schools. No member dues money is used to support candidates, but members may make a voluntary financial contribution to our Committee on Political Education (COPE). We can elect the right boss at the ballot box, from the school board to the Speaker of the House. Make a contribution!
Volunteer and help us win:
We cannot win in any election without volunteers. Making a commitment to our union's political work will help us win on the issues affecting our families and public schools. Making phone calls,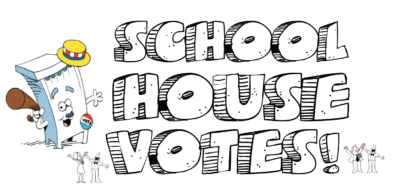 knocking on doors, and encouraging our co-workers to vote get results. Sign up to become a Texas AFT political volunteer by visiting www.texasaft.org/volunteer.
Join the conversation:
We invite you to share your views and opinions on the issues most important to you in this election. Join our new private Facebook group, "School House Votes." Tell your co-workers and visit www.fb.com/SchoolHouseVotes.
AFT Votes
AFT members have a vibrant history of engagement in the electoral process—whether it's volunteering to get out the vote, running for public office, talking to fellow union members, serving as a delegate to a party's national convention or voting in higher numbers than the general public. Here are some resources to help you engage in the 2020 process: https://www.aftvotes.org/2020-take-action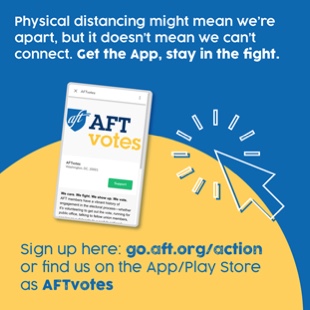 Download on the Apple store or Google Play store.