Texas educators and support professionals are responding to the COVID-19 crisis with seriousness and heroism. Public school employees are working hard to ensure that students continue to receive high-quality instruction, that children receive meals, and that our campuses will be well prepared for everyone to return in the future. So as we work from home, let's try and still have a little fun and show off our "home" campuses.
Show Your Work Selfie Campaign
We all miss our school's classroom, teachers lounge, cafeteria, library, gymnasium, playground, class pet, etc. Now that many of us are working remotely and have turned our homes into virtual learning environments, let's see–in a fun way–how we have made some adjustments.
Our campaign provides some pre-made 8.5″x11″ signs that you may download and print at home. Hang a sign at your "home" campus and take a selfie. Upload your photo by messaging us on Facebook (m.me/texasaft), and we will post to our Texas AFT social media pages using hashtags #OurWorkIsPowerful, #LearningNeverStops, #PublicSchoolProud. Feel free to also share in your personal social media and tag @TexasAFT on Facebook, Twitter, and Instagram and use our same hashtags.
Don't have a home printer? No worries. This may still be fun! Just make your own sign using arts and crafts that you currently have. Be creative and dress up printable signs. We just want to share our faces and let educators across the state know that we support each other.
Download + Print + Take Selfie Sign Options (8.5″x11″ PDF Files)
NOTE: Please make sure that your browser's popup blocker is turned off.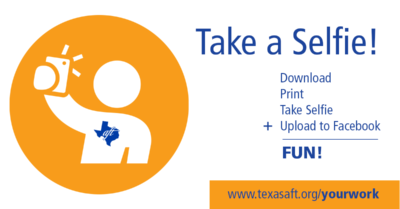 Disclaimer: Please remember to use your best judgement and professionalism when taking your selfie. 
Share + Upload Photo
Message us on

Facebook

at

m.me/texasaft

Upload your photo by including it as an attachment in your Facebook message
Include your: Name, School District, Campus, and Job Title