Your Weekly Briefing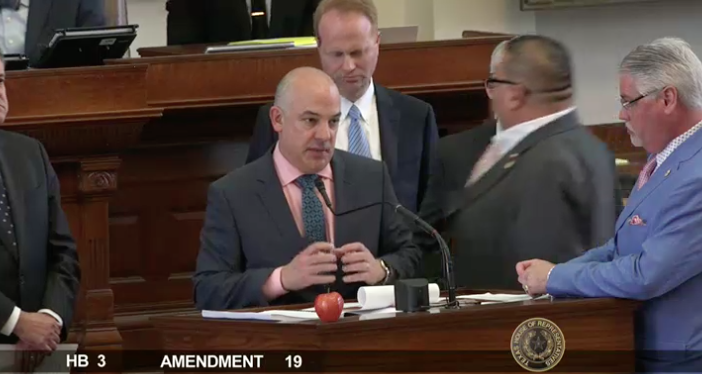 ​Rep. Dan Huberty, author of the House school finance bill, watches as Rep. Chris Turn lays out his amendment guaranteeing local educator pay raises. 
This week, the House threw down the gauntlet for public education by passing its school finance plan.  With about $6.3 billion in new public school spending and $2.3 property tax compression, HB 3 represents a significant building block on which Texas can fund its future.
House Public Education Committee Chair Rep. Dan Huberty crafted a bill that substantially raises the basic allotment, funds full-day pre-k for low-income kids, and after an amendment by House Democrats, raises wages for all full-time Texas school employees. An amendment by Rep. Chris Turner requires that at least 25% of new funding to districts be dedicated to raises for all full-time school employees, except administrators. We are also proud to report the bill has no provisions tying teacher pay to standardized test scores.
HB 3 shows the power of education advocates, who showed that when you make noise and advocate passionately, you can make a difference. Thank you to everyone who knocked doors, called voters, attended town halls, and met with legislators to talk about the needs of Texas schools!
While we will be celebrating Wednesday's 148-1 vote all weekend, we still have a long way to go until anyone has a pay raise. Next stop, the Senate must consider the measure. Meanwhile, you may remember that the Senate already passed SB 3, which would provide a $5,000 raise for teachers and librarians. This bill still needs action in the House. Texas AFT will be fighting to make sure educators and kids get the best deal.
Highlights & Lowlights of the Week
If HB 3's nearly unanimous passage showed the power of advocates, the Senate Education Committee's focus on virtual charter schools showed how much work still needs to be done. Despite overwhelming evidence of the chronic low performance of full-time, online virtual schools, the Senate Committee on Education heard several bills Thursday that would significantly expand virtual schools, including extending full-time online schools to young children in Kindergarten through 3rd grade. Texas AFT is working hard to oppose SB 380 by Sen. Bob Hall, SB 947 by Sen. Donna Campbell, SB 1455 by Sen. Larry Taylor, and SB 2244 by Sen. Angela Paxton.
Also this week, the Senate once again tried to give professionals in Texas a license to discriminate against LGBTQ Texans by passing SB 17. The measure, by Lubbock Republican Sen. Charles Perry, would allow occupational license holders like social workers or lawyers to cite "sincerely held religious beliefs" when their licenses are at risk due to unprofessional behavior or speech. Texas AFT joined a significant number of business leaders—who understand that discrimination is bad for business—in opposing this bill as an attempt to give cover to those who would deny critical services to members of the LGBTQ community.
Wednesday, the Senate passed a couple of school marshal bills. SB 406  by Sen. Brian Birdwell would allow marshals to carry a handgun on their person on campus rather than keeping it stored in a locked safe, and SB 477 by Sen. Brandon Creighton would create a uniform expiration date for all marshal certifications. The Senate also confirmed Mike Morath for another term as TEA commissioner.
While we are very disappointed  the Senate exempted charter schools from municipal drainage requirements by passing SB 674 by Sen. Donna Campbell, we do appreciate that Senators Jose Menendez, Borris Miles, and Jose Rodriguez stood up to privatization by opposing the measures.
Unfortunately, the challenges in the Senate this week continued when the Senate State Affairs Committee discussed SB 1569 by Sen. Pat Fallon, which would place extreme new limits on the ability of school districts and trustees to advocate for their districts during non-partisan elections.
The bill is extremely broad and subjective including language about "preventing the use of district resources for the promotion of a political ideology." Texas AFT and our allies continue to oppose these absurd anti-First Amendment measures.
The House Pensions, Investments, and Financial Services Committee sent SB 12 to the calendars committee, after substituting in HB 9.  As substituted, the bill makes the Teacher Retirement System actuarially sound without costing active members more and includes a larger 13th check for current retirees (capped at $2,400 instead of $500). We hope to see that bill voted on by the full House soon, so the chambers can resolve their differences.
Other Texas AFT supported bills heading for floor votes include:
HB 1517 by Rep. Garnet Coleman requires districts to notify parents if there is not a full-time nurse present on a campus and was approved by the House Public Education Committee.
SB 1731 by Sen. Angela Paxton, which would allow undergraduate college students intending to go into the teaching profession to take more than 18 credit hours in the school of education, passed the Senate Education Committee.
The week ahead
The House Public Education Committee has set up a marathon of charter bills for 8 a.m. Tuesday, including many Texas AFT priorities. From Rep. Giovanni Capriglione's efforts to require charter schools to be open and transparent, to Rep. Gina Hinojosa's bill to prevent charter schools from discriminating against kids through their "discipline exemption." Texas AFT is working hard to end the special advantages charter schools are granted over public schools. We hope this hearing will ensure fairness and transparency in charter schools.
Meanwhile, the Senate plans to take up its budget on the floor Tuesday.
Great bill of the week
Our GBOTW this week comes from Rep. Michelle Beckley. HB 4095 gives some attention to the people who keep our schools clean and safe by requiring districts to create specific guidelines for custodian workloads in public schools. Requiring districts to have a policy on the area a single custodian can cover would be the first step in ensuring fairness for our hardworking custodial staff.