This pandemic isn't over.
Here's the information you need to protect and advocate for yourself and your colleagues.
Latest News: Vaccine Distribution & Texas Mask Mandate
In March, two announcements have changed the situation significantly for our schools.
Vaccine Priority for K-12 Employees
After months of advocacy from AFT and educators across the country, President Joe Biden has directed all states to prioritize K-12 school employees for COVID-19 vaccine distribution.
If you work in a Texas public school, you are eligible to receive a vaccine now.
Providers like CVS and HEB, as well as health agencies statewide, have been directed to add educators and school employees to priority groups. You can find available appointments near you https://vaccinefinder.org/search/.
Governor Lifts Mask Mandate
Simultaneously, Gov. Greg Abbott has lifted the statewide mask mandate and allowed businesses to reopen at 100% capacity as of March 10.
For schools, however, the Texas Education Agency is leaving mask requirements in place. Local school boards, however, do have the authority to override those requirements if they so choose.
Now is the time to reach out to your school board and let them know the importance of keeping our campuses safe with continuing mask requirements.
Need to Know: Expiration of Federal Paid Leave
The Families First Coronavirus Response Act (FFCRA) required employers to provide paid sick leave and expanded Family Medical Act Leave (FMLA) to employees for coronavirus-related illness or quarantine. That law expired Dec. 31, 2020, and Congress has not renewed its protections.
Where does that leave you? And what if you face a situation with multiple required quarantines? Texas AFT believes districts need to step up and pass local policies that provide at least 80 hours (two regular weeks) of pay if employees are required to quarantine and can't work remotely.
Many districts have passed local policies extending the 80 hours of leave provided by the FFCRA, and local unions like Cy-Fair AFT have successfully pushed for policies in their districts.
What You Can Do
Unfortunately, not all districts have taken this local step. That's why we're equipping you with a simple template policy and letter to send to your administration and school board members urging them to do the right thing.
---
Your Rights as an Employee
Webinar Recordings
---
FMLA & ADA
---
General Know Your Rights Resources
---
Safety committees are an essential way to collect concerns from employees and hold leaders accountable. Check with your local union or your school nurse to see if your campus has one. If not, you can start one yourself with our toolkit.
Take Action
Our tracking site collects crowdsourced reports of positive COVID-19 cases, safety violations, and employee stories at campuses across the state. Submit your report.
We're stronger when we work together. If you're not yet a member of our union, use this form to contact an organizer for your area and learn more about our collective fight.
Our union is active on the national, state, and local levels. There's always a way for you to get involved and raise your voice.
Members of our Associate Membership Program (AMP) can download our free mobile app, Ask Texas AFT. You can browse answers to common workplace questions — including COVID-19 concerns — or talk one-on-one with our experts.
Note: This app is also available for Houston Federation of Teachers members.
Reopening Plans/Guidance
Union Plans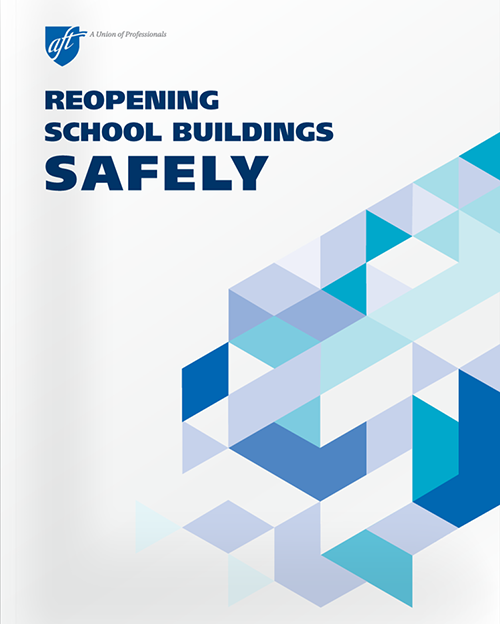 ---
TEA Guidance
---
Personal Protective Equipment (PPE)