Texas cannot afford two competing school systems.
One of our union's top priorities every year is fighting efforts to privatize our public education system, whether through vouchers or the expansion of charter schools.
Every year, charter schools cost Texas taxpayers $3.6 billion. Unlike our traditional public schools, these charter schools are privately administered and lack accountability for how they use their public funding.
Because of this public-private status, charter schools often are exempt from the same academic standards, health and safety rules, and civil rights requirements as traditional public schools.
---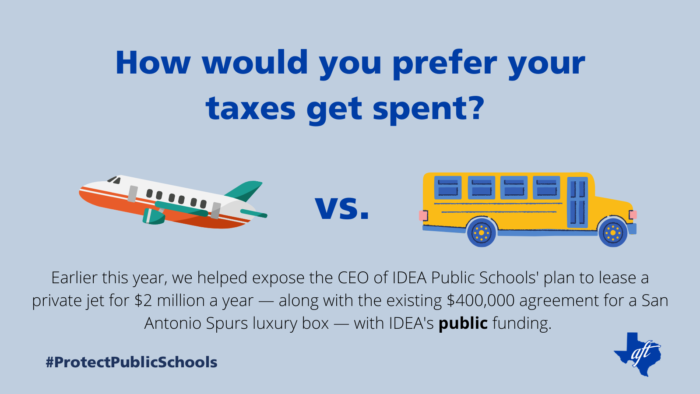 Case Study: IDEA Public Schools
To put that $3.6 billion into context, let's look at one example. IDEA Public Schools is one of the largest charter chains in the state.
Each year, IDEA receives more than $621 million in state aid. That's not only more aid than any other charter school chain, but also more than any independent school district in Texas.
In fact, IDEA Public Schools' $621 million in state funding is more than the state general revenue for:
any single higher education institution, including the University of Texas at Austin and Texas A&M University
the Texas Department of State Health Services
the combined budgets of the Texas Department of Agriculture, Texas Commission on Environmental Quality, the General Land Office and Veteran's Land Board, and the Railroad Commission
all agencies under the Appropriations Act Article VII Business & Economic Development, including the Texas Workforce Commission, the Texas Department of Motor Vehicles, and the Texas Department of Transportation
IDEA Public Schools' $621 million in state funding is more than twice the state general revenue for:
the Texas Parks & Wildlife Department
all agencies under the Appropriations Act Article VIII Regulatory, including the Texas Department of Insurance, Department of Licensing and Regulation, and all licensing boards
We already know they're not spending all that money on the students they siphon away from public schools. Instead, they're buying high-priced ads or luxury perks for their CEO.
Fighting the privatization of our public schools is one of our union's biggest focuses. If you want to help us in this fight, join our union today.