December 14, 2018
Inside:
Sign of the time: It's Winter Break!
Congrats to our newest local union
Save the date; March to the Capitol!
Get PD credit over the holidays with Share My Lesson
Hit the road with discounted car rentals
Retired, but looking to be a part of a movement?
About this newsletter
Sign of the time

There's nothing like seeing "Happy Holidays" on your school sign. From all of us at Texas AFT, we'd like to wish you a joyous Winter Break! A reminder that our offices will be closed from Tuesday, December 18, to Wednesday, January 2.
---
Congrats to our newest local union

The new PSJA AFT Executive Board
Congratulations to our newest local union–PSJA AFT (serving Pharr-San Juan-Alamo ISD). Members unanimously approved to charter a full local union last week. As the first order of business they elected officers, including the new president, Zachary Holzworth (pictured above left). You may recall that PSJA members were instrumental in stopping a plan to turn the entire district into a charter system this summer. So, we're happy to have them on board and look forward to a future of strong activism in the Valley.
---
Save the date!

Save the date for the most important Monday in 2019 (first day of Spring Break for many of you). We'll be marching to the Capitol to ensure the state Legislature gets it right this time with a fix for school finance, a commitment to "Fund Our Future" with more public education funding, and a wage increase for school employees. (You can see our full Legislative Agenda here.)
And you can stay tuned to all the details for the day and RSVP on Facebook here.
---
Get PD credit over the holidays with Share My Lesson
Share My Lesson has free K-12 lessons, activities, blogs and webinars to help you educate our youth and improve your skills in the classroom. Check out a diverse offering of webinars available on demand (some offering professional development credit).
Missed the "Conversation with Steven Spielberg: Using Schindler's List in the Classroom?" Need some help on "How to Survive and Thrive as a New Teacher?" Share My Lesson has dozens of courses, and you can search by grade level and topic. (Tip: Be sure to register first to get the most out of the site!)
---
Hit the road with discounted car rentals
It's the most wonderful time for an adventure. Enjoy up to 25% off base rates with Budget, plus save an additional $25 off your rental.
Here's how it works:
As an AFT member, you're eligible for a wide range of insurance products to meet your needs. 
Be sure to check Union Plus to see how you can save money and gain peace of mind.

---
Texas AFT Convention-Professional Learning Day Proposals Now Being Accepted
Texas AFT is gearing up for our union's Professional Issues Day at the 2019 Texas AFT convention in Houston on June 7-9 at the Westin (Memorial City).
On June 8, Texas AFT will host a Professional Issues Day for our members to come and receive research based professional development led by current classroom teachers and experts in their field of study. Our union is accepting proposals for workshops to be offered at our convention. The proposals should address issues that are impacting those working and attending our public schools.
If you are interested in submitting a proposal, please do so here by February 6th. Each session will be two-hours long, and instructors will be compensated. Those selected will be notified in mid to late February. If you have any questions, please email Jamie Womack-Williams at jwomack@texasaft.org.
Watch our Texas AFT Professional Development video…
---
Retired, but looking to be a part of a movement to improve pensions and health care?
Join Retiree Plus!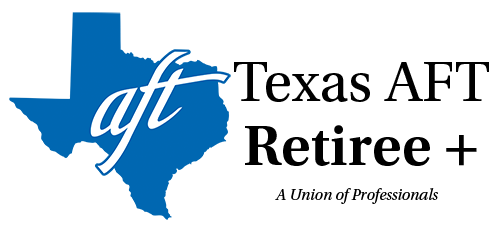 Join Retired Plus now for just $2/month!
Texas AFT Retiree Plus is a newly formed group advocating for retired teachers and school employees in Texas, because retirees deserve a state organization that will stand strong to protect their pension and health care through TRS. Membership is open to any retired school employee. Texas AFT Retiree Plus focuses exclusively on educating members and lobbying the state Legislature about the Teacher Retirement System of Texas, protecting your pension and TRS-Care.
You are invited to join today. On-line membership is quick and easy. Moreover, at $2 monthly, we are keeping the needs and budgets of our retired members in mind. Membership comes with a quarterly electronic newsletter, information shared through social media, and the finest legislative advocacy.
Once you sign up, be sure to join our Facebook Group!
---
About this newsletter
Round-Up is the email newsletter from Texas AFT and is published every two weeks. You are on this list because you either subscribed, or you were added when you participated in a Texas AFT action campaign and opted in to receive emails. You may unsubscribe at any time with the link below, but we'd love to have you stay so you can remain informed about  our union, public education, and your profession.
Texas American Federation of Teachers represents more than 65,000 teachers, paraprofessionals, support personnel, and higher-education employees across the state. Texas AFT is affiliated with the 1.7-million-member American Federation of Teachers.
###