Inside:
Are you willing to Stand Together and Speak Out for our students and the education profession on March 11?
Member Benefits: Discounted mortgage programs and rebates
A brief history of educator pay raises from the state
You're Invited: Choose from 30+ Webinars
Retiree issues still percolating at the Capitol
In Case You Missed It and About this Newsletter
---
Are you willing to Stand Together and Speak Out for a true pay raise for the education team?
The March 11 Rally will feature AFT President Randi Weingarten
and NEA President Lily Eskelsen García
It's less than two weeks until the Red for Ed movement—walkouts, strikes and rallies demanding more funding for our schools and educators—comes to Austin. Now is your chance to Stand Together and Speak Out for Texas schoolchildren and school employees by attending our Red for Ed March to the Capitol on March 11. The key issues we'll be fighting for are a significant investment of new state money in public education, and a pay raise, not just for classroom teachers as is proposed, but for all school employees
We are partnering with the Texas State Teachers Association for the event, but note that you do not need to be a member of Texas AFT or TSTA to attend. Everyone is welcome!
Check to see if there is a local union in your area, as many will be providing bus transportation to Austin on March 11. Or RSVP here and and we can and try and connect you to give a ride or get a ride. (You can also RSVP and keep in the loop on Facebook here.)
VIDEO: Austin teacher Traci Dunlap testifies before a Texas Senate Committee on the need to increase compensation for all school employees.
---
Member Benefits: Discounted mortgage programs and rebates
AFT member and veteran José Acevedo financed his new home with the Union Plus Mortgage Program, by being a union member and a veteran he was eligible for additional savings with the Union Plus Mortgage Veterans Grant.
"I received a $500 gift card for being a union member and then discovered I was eligible for the Mortgage Veterans Grant. I was so glad that I found it," said Acevedo. To learn more about the Union Plus Mortgage Program and the new Mortgage Veterans Grant, please visit unionplus.org/mortgage.
---
A brief history of educator pay raises from the state

While most school employee pay raises are determined locally, there is a history of infrequent state-funded raises for teachers and other certified employees. You can view and download the full infographic here.
---
Film highlights threat of privatization:
Backpack Full of Cash has two upcoming screenings

Narrated by Matt Damon, this feature-length documentary explores the growing privatization of public schools and the resulting impact on America's most vulnerable children. Backpack Full of Cash exposes the world of corporate-driven education "reform" where public education—starved of resources—hangs in the balance. Two upcoming FREE screenings include:
Cy-Fair AFT and TSTA screening and panel discussion (Facebook Event)
Thursday, February 28, 6:30 p.m.
Berry Center, 8877 Barker Cypress Rd, Cypress, Texas 77433
Austin Voices for Education and Youth screening with Q&A from Texas AFT's Patty Quinzi
Monday, March 11,  6 to 8 p.m.
Servant Church, 1605 E 38th 1/2 St, Austin, TX 78722
---
You're Invited: Choose from 30+ Webinars
Join us for our seventh annual Virtual Conference, March 12-14, 2019. This free, for-credit webinar series provides "use-right-now" strategies and tools for teachers, paraprofessionals and school related personnel, parents and community members. With 30+ professional development webinars, you're sure to find sessions on topics of interest, including:
Anti-Bias Education and Teaching Diverse Populations
Career-Readiness, Digital Literacy and Project-Based Learning
Classroom Management and Restorative Practices
Controversial Issues, Current Events and Social Justice
Teaching Across the Curriculum
---
Retiree issues still percolating at the Capitol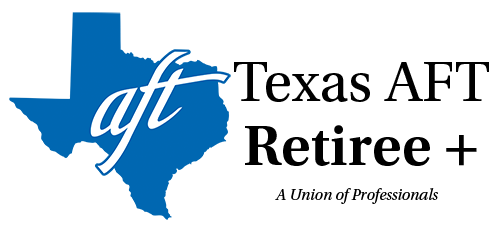 We get a lot of emails and social media comments from retired educators who see news of teacher pay raises asking: What about us?
Be assured, we will be fighting at the Capitol for more funding for retiree health care and pension cost-of-living increases at the Capitol. Many of those issues are in a holding pattern until the Texas House leadership announces its school finance plan.
One great way to prepare for that fight is by Joining Retiree Plus.
Texas AFT Retiree Plus is a newly formed group advocating for retired teachers and school employees in Texas because retirees deserve a state organization that will stand strong to protect their pension and health care. Membership is open to any retired school employee. You are invited to join today for just $2 a month. Online membership is quick and easy.
---
In Case You Missed It:
Our other email publications include "#TxEd in the Media," a Monday column with commentary and analysis of the top Texas Education stories in the news; "Dear Friends," a letter from Texas AFT President Louis Malfaro every other Wednesday; and the"Legislative Hotline,"a wrap-up of legislative news each Friday.
About this newsletter
Round-Up is the email newsletter from Texas AFT and is published every two weeks on Wednesdays. You are on this list because you either subscribed, or you were added when you participated in a Texas AFT action campaign and opted in to receive emails. You may unsubscribe at any time with the link below, but we'd love to have you stay so you can remain informed about  our union, public education, and your profession.
Texas American Federation of Teachers represents more than 65,000 teachers, paraprofessionals, support personnel, and higher-education employees across the state. Texas AFT is affiliated with the 1.7-million-member American Federation of Teachers.
###