Editor's note: We're coming out a bit early with this Round-Up and keeping it short and simple with a plug to vote and for retirees to check out our new membership program!
---
Early Voting starts Monday … plan to vote!
Texas has set a record with more than 15.7 million registered voters! That is an increase of close to 1.7 million voters since 2014. However, in March we had 77 percent of voting-age Texans registered, but only 13 percent voted. It's time to change low voter turnout!
We've teamed up with Texas Educators Vote to promote Educator Voting Day for the first day of early voting, Monday, October 22.
We encourage you to make plans now to vote Monday, then visit our pinned Facebook post to post your photos of you with your "I Voted" sticker. Tag your friends and challenge them to vote as well!
For the full scoop on voting information and our endorsements, see our Election 2018 page!
---
Retired, but looking to be a part of a movement to improve pensions and health care?
Join Retiree Plus!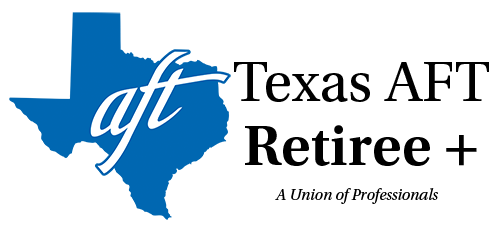 Join Retired Plus now for just $2/month!
Texas AFT Retiree Plus is a newly formed group advocating for retired teachers and school employees in Texas. Membership is open to any retired school employee. Texas AFT Retiree Plus focuses exclusively on educating members and lobbying the state Legislature about the Teacher Retirement System of Texas, protecting your pension and TRS-Care.
Membership comes with a quarterly electronic news-letter, relevant information and the finest legislative advocacy. Retirees deserve a state organization that will stand strong to protect their annuity and health care through TRS.
It is evident that retired school employees are facing rising medical costs and decreased benefits. Together, the organized effort of Texas AFT Retiree Plus can help deliver the respect all retirees deserve.
You are invited to join today. On-line membership is quick and easy. Moreover, at $2 monthly, we are keeping the needs and budgets of our retired members in mind.
Once you sign up, be sure and join our Facebook Group!
---
About this newsletter
Round-Up is the email newsletter from Texas AFT and is published every two weeks. You are on this list because you either subscribed, or you were added when you opted in participating in a Texas AFT action campaign. You may unsubscribe at any time with the link below, but we'd love to have you stay to hear more about our union, public education, and your profession.
Texas American Federation of Teachers represents more than 65,000 teachers, paraprofessionals, support personnel, and higher-education employees across the state. Texas AFT is affiliated with the 1.7-million-member American Federation of Teachers.
###