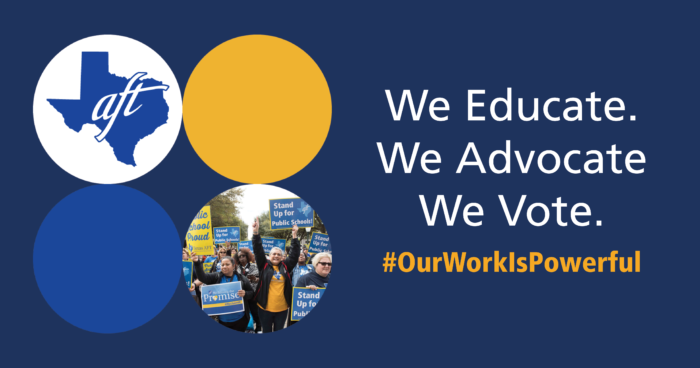 Our union is building our power at the national, state, and local levels. To do that, we need to elect pro-public education, community-driven allies to our local school boards.
Below, you'll find educator-endorsed candidates for both San Antonio ISD and Northside ISD school board races, as well as election information.
Our union's endorsements and election efforts are funded by our political action fund. Member dues are never used for political activity. If you want to help make sure we elect pro-public education candidates to school boards and to the state Legislature, please consider making a voluntary contribution to our political fund.
---
Election Information
You can find your school board district, along with your voting precinct, on the Bexar County Elections Department website.
Early Voting: Monday April 19 — Tuesday, April 27
Election Day: Saturday, May 1
---
Endorsed San Antonio ISD Candidates
Each of these candidates for the San Antonio ISD Board of Trustees has been endorsed by the San Antonio Alliance, which represents all non-administrative San Antonio ISD employees.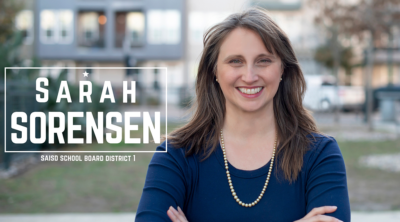 Sarah Sorensen
SAISD District 1
Sarah Sorensen is a SAISD parent and public education advocate. She has served on the board of her neighborhood school's PTA and is currently the vice president of the Lavaca Neighborhood Association. Sarah is a founding member of the Our Schools Coalition, which promotes a student-centered model for public education, rooted in racial and economic justice.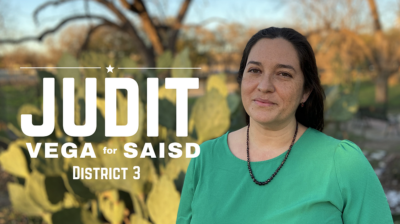 Judit Vega
SAISD District 3
Judit Vega was born and raised in San Antonio, and her children currently attend school in the district. Judit is a food and housing justice advocate who has launched both the Healthy Neighborhoods program and the Stand Up SA initiative. Judit's primary goal is for campuses to be funded more equitably.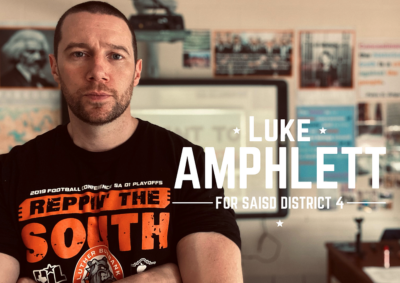 Luke Amphlett
SAISD District 4
Luke Amphlett is a teacher and a union rep at Burbank High School. Luke has advocated for the safety of employees and students during the COVID-19 pandemic. He served on the team that implemented the district's Student Bill of Rights and has fought for the rights of immigrants in our schools. One of his main goals is to de-prioritize standardized testing.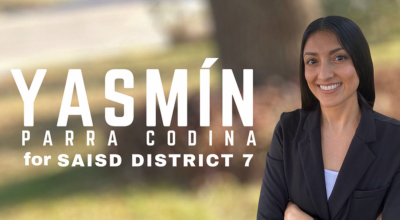 Yasmín Parra Codina
SAISD District 7
Yasmín Parra Codina was born and raised in San Antonio. She has previously worked at The University of Texas at San Antonio and the non-profit Education Investment Foundation. Yasmín wants to get parents and community members more involved in district decisions, improve safety protocols on campuses, and make curriculum at all grade levels more culturally relevant.
---
Endorsed Northside ISD Candidates
Each of these candidates for the Northside ISD Board of Trustees has been endorsed by Northside AFT, which represents all non-administrative Northside ISD employees.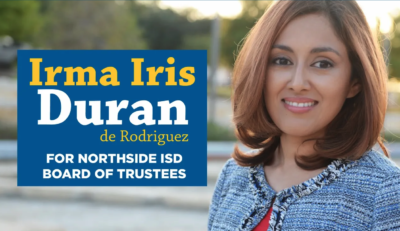 Irma Iris Duran de Rodriguez
NISD District 5
Irma Iris Duran de Rodriguez is a Northside ISD alum and has two children in the district currently. Irma serves as the senior housing policy coordinator for the City of San Antonio, while also being an active PTA parent Irma wants to open up dialogue between the district and parents, and ensure all schools in the district have equal opportunity with student programs.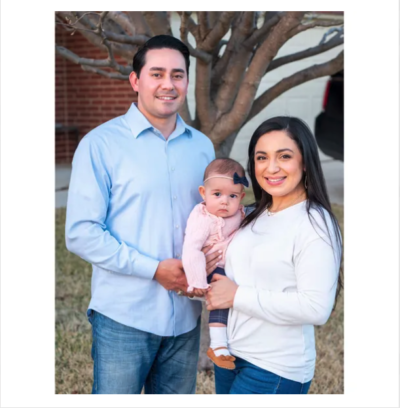 Kevin Escobar
NISD District 7
Kevin Escobar is a lifelong resident in Northside ISD and is the son of San Antonio public school educators. Kevin is an investment banker who specializes in bond issuances for school districts and municipalities. He has advocated for financial literacy courses in schools and would bring his expertise in school bonds to the board.
Pol. Adv. Paid for by Texas AFT COPE