Wellness Wednesdays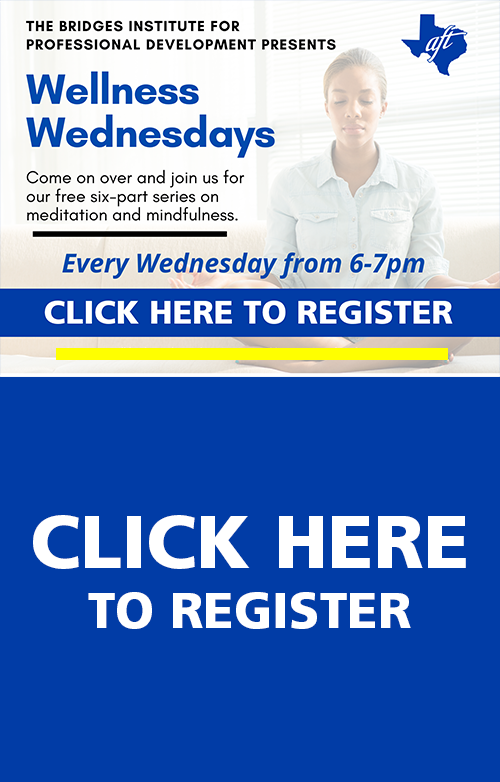 Texas AFT's Bridges Institute for Professional Development invites you to attend our free series of online classes to help make your mind and body well.
Wednesday sessions will be broadcast from 6-7  p.m. via Zoom.
We will post recorded sessions on this page following each event. Please share our upcoming wellness series with your co-workers. 
Dates and Sessions (All times 6-7 p.m.)

Wednesday | July 1
Yoga Class
Wednesday | July 8
Yoga Class
Wednesday | July 15
Yoga Class
Wednesday | July 22
Yoga Class
Wednesday | July 29
Yoga Class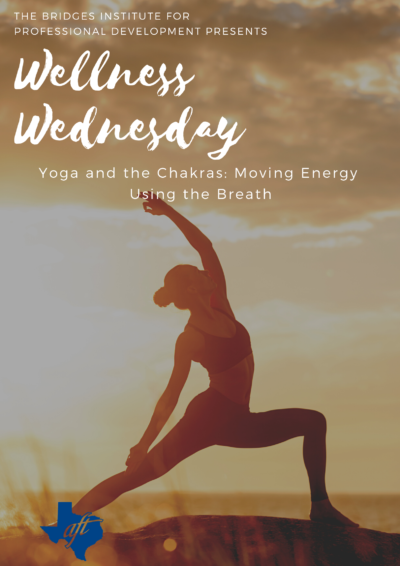 Your Yoga instructor: Eleanor Harris
Eleanor Harris, Health and Fitness Professional, provides Eastern and Western modalities of healing arts since the mid-'80s serving clients in New York and Texas.  Eleanor taught yoga to beginner yoga students and trained aspiring yoga instructors starting in 1990.  She was the first pre/post-natal instructor at Yoga Yoga.  In this 5-week series, Eleanor will be sharing her knowledge of energy as it pertains to the chakras.  Many cultures recognize energy by different names that include Chi, Ki, Prana, or Meridians.  Using chakra theory, yoga poses, and simple breathing techniques, we will examine and mediate on energy and breath as it moves through the body to help promote health on a physical, mental, emotional, and spiritual level.  For more information about Eleanor Harris, please see:  www.eleanorharris.com
Come join me, I guarantee you will have a blast!
Archive of Sessions and Recordings
Wednesday | May 6
What is Mindfulness: Mindfulness of Breath
Recording: Click here to watch 5.6.20
Wednesday | May 13
Mindfulness of the Body: Importance of Feeling the Body & Body Scan
Recording: Click here to watch 5.13.20
Wednesday | May 20
Emotions: Exploring Emotions and Mindfulness of Self-Regulation
Recording: Click here to watch 5.20.20

Wednesday | May 27
Heartfulness: Forgiveness
Recording: Click here to watch 5.27.20

Wednesday | June 3
Compassion: Mindfulness and Communications
Recording: Click here to watch 6.03.20

Wednesday | June 10
Everyday Mindfulness: Fruits of Mindfulness
Recording: Click here to watch 6.10.20
About the Mindfulness Instructor: Mridula Kamra
I am an educator interested in teaching mindfulness to everyone who is interested in the subject. I hold a master's degree in education from the University of the Incarnate Word at San Antonio and a Master's in Nutrition from Kansas State University.
This is my fourteenth year of teaching and I am currently teaching 6th grade science at the Secondary Disciplinary Alternative Education Program (DAEP) with Houston ISD.  I have taught several upper level science courses before this assignment. During the past decade of teaching, I have held a variety of leadership roles including serving as Department Head and have participated in a variety of teaching experiences that have ranged from analyzing data to leading campus improvement teams.
During this time, I have realized there is a need for Mindfulness training to all of us. I am also trained in yoga and Pranayama (breathing exercises). My hope is that the online mindfulness class can help our teachers and community achieve their full potential while working from home. As I am a lifelong learner, I look at this course as an opportunity to learn and grow myself.  Ultimately, I hope to impart what I have learned and practiced all these years to our community of educators and supporters.