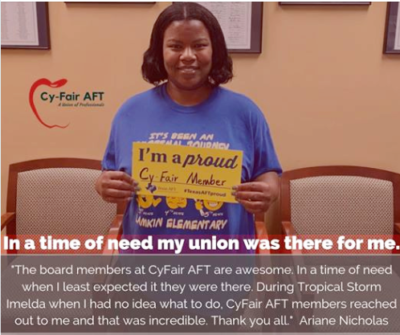 Our members need our help. This week a section of Dallas has been ravaged by an F3 Tornado–causing significant disruption to students and teachers in 20 different Dallas ISD schools (two of which are closed for the long term).
This is just the latest in a long line of disasters our members have faced. In the wake of the destructive Hurricane Harvey, our Houston residents were hit with flooding with Tropical Storm Imelda. 
 Before that, numerous members were left without housing after the Bastrop fires. Texas AFT has a long history of assisting members in need during all these catastrophic events by distributing relief checks, and in many instances providing a place to stay and regroup or hands-on labor for cleanup. Please help continue these efforts by donating to our Disaster Relief Fund. All proceeds are distributed directly to members during disasters. Any amount is welcome, but recurring donations keep the fund healthy. Donate now!