State Board of Education stakes claim as long-term education goal-setter:  The State Board of Education began work Tuesday on a Long-Range Plan for Public Education that would establish core goals for the public schools.  The first meeting of a new 18-member steering committee to advise the SBOE focused on models of long-range plans developed by other states. The committee is made up of five SBOE members, three representatives of relevant state agencies, and 10 public stakeholders nominated by the 10 SBOE members who do not themselves serve on the steering committee.
Committee members took a first crack at identifying topics to be considered in a series of 10 community conversations to be held around the state as well as in four more state-level meetings of the steering committee. Topics may include:  effective systems of student support; educator preparation, recruitment, retention, and professional development; community-based accountability; equity in access to educational offerings; early learning; college and career readiness. In addition to these efforts, the committee will solicit public comment with a survey to help guide its work.
The five SBOE members serving on the long-range planning committee are:
Donna Bahorich, R-Houston, chair of the State Board of Education
Barbara Cargill, R-The Woodlands, chair of the board's Committee on School Initiatives
Tom Maynard, R-Florence
Georgina Pérez, D-El Paso
Marty Rowley, R-Amarillo
The 10 public stakeholders were selected from among more than 600 applicants. As profiled on TEA's website, they are:
Adeeb Barqawi, a former high school physics teacher who runs an organization that empowers school districts to nurture the whole child by equipping them with a data driven infrastructure that systematizes impactful connections to resources for all students
Rikki Bonet, a veteran pre-kindergarten teacher in the Dallas Independent School District who has first-hand experience with dyslexia both as an individual and as a parent
Avery Bullock, a Weatherford High School senior in Weatherford ISD and an active school leader and community volunteer, working with groups such as the Brazos River Regional Day School Program for the Deaf and Salvation Army
Sheri Doss, the president-elect of the Texas PTA who is from North East ISD in San Antonio
Stacey Edmonson, dean of the College of Education at Sam Houston State University in Huntsville who has a wide-range of research and practical experience in the areas of special education and administration
Lanet Greenhaw, vice president of education and workforce at the Dallas Regional Chamber
Carol Harle, a current school board member in San Antonio's Northside ISD and a former teacher and administrator with experience at several grade levels and in the Gifted and Talented Program
George Kazanas, superintendent of Midway ISD in the Waco area,  a former Region 12 Superintendent of the Year, former Region 8 UIL Music Education Superintendent Representative and former president of the Rio Brazos Education Cooperative Management Board, which provides special education services as well as other services to small districts.
Gonzalo Salazar, superintendent of Los Fresnos Consolidated ISD with extensive experience working with bilingual education and at-risk students as a teacher and administrator
Ruth Lopez Turley, director of the Houston Education Research Consortium and a professor of sociology at Rice University
Once the long-range planning committee develops a draft plan, the full State Board will review and vote on it, probably next September. Ultimately, of course, the Legislature will have the power to decide whether and how to use this SBOE plan.
Children's health insurance at risk: The federal Children's Health Insurance Program serves more than one million children in Texas and nearly nine million nationwide. These are children of low-income working families that cannot otherwise afford health coverage. This program is due to expire on September 30 unless it is reauthorized by Congress. If Congress fails to reauthorize the program, more than one out of every nine children currently served will lose coverage.
CHIP is a program that has traditionally received bipartisan support. Democrats and Republicans in both the House and Senate agree it's critical that Congress act to reauthorize the program. Republican Congressman Michael Burgess of North Richland Hills outside Fort Worth, who chairs a key House subcommittee on health policy, has voiced the consensus view that the program has been successful at supporting children in need while providing states with considerable leeway to customize their state CHIP services. But bipartisan legislative agreement in principle on the merits of CHIP now needs to be translated into practical action to extend the life of the program with a long-term reauthorization so children and families in need can count on continued help. Leading Republican and Democratic senators joined forces Tuesday in support of a five-year extension of CHIP, but the rest of the Senate and then the House still need to follow suit.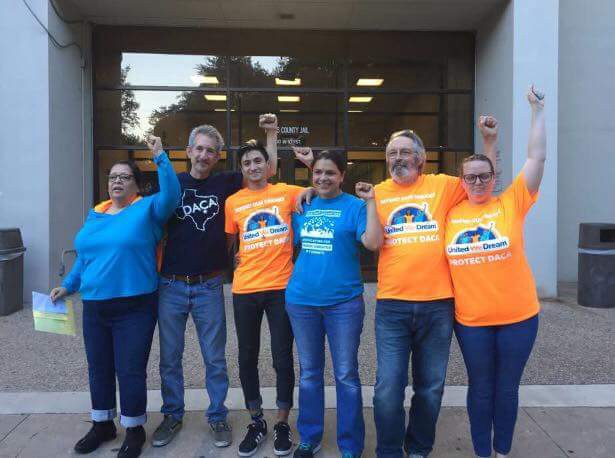 A Texas educator's take on the fight for immigrant rights: This week on AFT Voices, Education Austin President Ken Zarifis shares how Texas AFT members are taking it upon themselves to defend the rights of immigrants promised by the federal government under the Deferred Action for Childhood Arrivals program. He writes, "As a union, our core beliefs revolve around the concept of solidarity….The racists will be relentless, and so must we." Read Ken's blog post on AFT Voices.